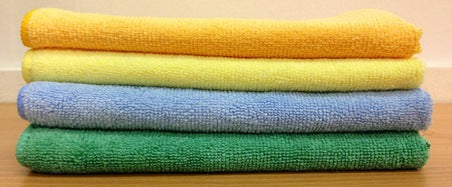 Fine All-rounder Microfibre Towels (3 Pack) - Mammoth
The Fine All-rounder from Mammoth Microfibre is a quality multi-purpose microfibre towel. They are available in various colours to allow you to colour-code for different detailing jobs! This will prevent cross-contamination and give you a huge supply of quality microfibres!
Fine All-rounder multi-purpose microfibres are great for general cleaning, polishing, drying wheels, and other jobs that you wouldn't want to use your (more expensive) plush towels for. 
Fine All-Rounder Towels are made entirely in South Korea and as such they are a fantastic quality. Not only do they share the distinctive split-weave, they are just as safe on the surfaces of your vehicle as more plush microfibre towels.
These All Purpose Microfibre Towels are safe on glass, paint, clear coat, and any other surface. For general cleaning in and around your garage and vehicle, you can't beat the value.
Mammoth's All-Rounder multi-purpose microfibre towels give you all the benefits of microfibre at a special bulk price.
Towel Size: 400mm x 400mm (16" x 16")