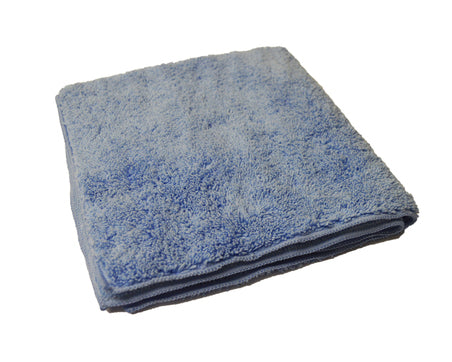 Mammoth Microfibre - Blue Ewe - Ultra Soft Polishing Towel
Blue Ewe - Ultra Soft Polishing Towel

The Blue Ewe Microfibre was given its name due to it's ultra soft wool-like texture.
On one side of this cloth is a deep soft nap, ideal for buffing. The deep nap provides plenty of space for dried wax and residues to accumulate. Many towels can become caked and ineffective; the Blue Ewe keeps working because its thick microfibre loops whisk wax deep into the nap. The nap also allows dust, dirt and lint to move away from the paint to prevent scratching.
The opposite side of the Blue Ewe has shorter, tighter loops, perfect for polishing and cleaning. The tighter structure gives the towel some scrubbing power to wipe off dried cleaner waxes and polishes. But don't worry - the tighter loops are still very soft and nonabrasive. Wipe off waxes, polishes, and cleaners without fear of scratching the paint.
The Blue Ewe is ideal for any detailing job. It cleans, polishes, buffs, dries, and dusts better than any other towel you've used before.
Size: 40mm x 40cm