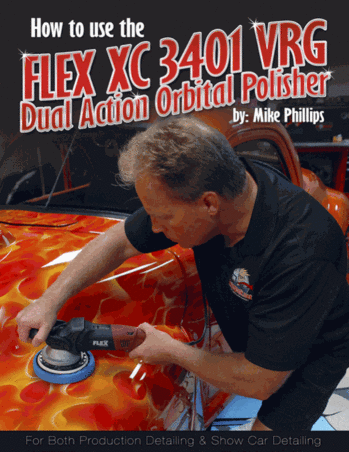 Mike Phillips' How to use the Flex XC3401 VRG Dual Action Orbital Polisher Paperback Book
Mike Phillips' How to use the Flex XC3401 VRG Dual Action Orbital Polisher Paperback Book-
The most in-depth source of information available for the FLEX XC3401 VRG Dual Action Polisher!

Mike Phillips provides an in-depth look at the German-made paint correction machine known as the FLEX XC3401. Perfecting your technique with this forced-rotation, dual action polisher will enable you to achieve the highest level of paint perfection. The information in this book caters to everyone from the at-home enthusiast to the full-time pro.
Mike Phillips shares his own tips and techniques on how to achieve the highest level of paint perfection from the XC3401. From a comprehensive break-down of every pad and accessory available for this German built machine, to all the polishes and compounds that work best with it, Mike Phillips has created what can only be considered the definitive guide to the XC3401. Until this point nobody else has gone to the extent that Mike has to cover every minute detail.
How to use the Flex XC3401 VRG Dual Action Orbital Polisher book covers such topics as:
• Using the FLEX XC3401 for both production and show-car detailing
• The 8 normal steps to perform before buffing out a car
• How to use a multi-step process for a show-car finish
• How to apply a one-step cleaner wax with the XC3401
• Using Nanoskin Autoscrub Pads with the XC3401
….and a whole lot more!
Modern clear coats must be handled with care. It takes the right pads, products, and techniques to achieve the perfect finish. Mike covers all of the above so you can achieve perfection with your FLEX XC3401 the first time!
Mike's been detailing cars and teaching others how to detail cars his entire life. His passion for the craft shines through on each page thanks to his clear and concise writing style.
Plus, you can access Mike and ask him any questions you have for your specific detailing projects at the AutogeekOnline.net discussion forum.
 • 52 pages
• Full colour images
• Step-by-step instructions